Last impressions matter, especially on the day you say, "I do!"

Leave a lasting impression on your wedding guests that they'll NEVER forget with these imaginative send-off ideas!


Your wedding says a lot about you. Some remember the unique aspects of your ceremony, others remember the stunning intricacies of  your dress, but one of the most memorable parts of your wedding will be…your SEND-OFF!! Here are some fun and creative send-off ideas that will perfectly tie a bow on your wedding day.

BLOW BUBBLES

Walk out into a magical bubble wonderland as you and your soulmate make your way down to your getaway vehicle! Take this fun approach and capture a memory that will last a lifetime.

WAVE RIBBON WANDS

Let your wedding send-off be as elegant as your big day! Have your guests wave ribbon wands to and fro as you and your significant other depart in style.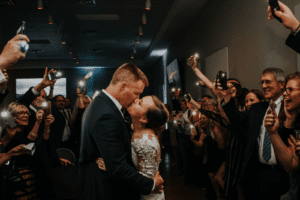 (Pinterest, Hello Honey Portraitures)
A FLAMELESS APPROACH

Phone flashlights, glow sticks, fiber-optic wands, or lightsabers are excellent substitutes for open flames that are all acceptable at our historic venue. Take your pick and let the magic of the moment take shape!
RING THE BELLS

Ring the bells! Ring in the start of your marriage as your loved ones ring the sweet sound of bells! A classical twist to an eventful day, bookend your historic wedding at our historic venue with this classical twist.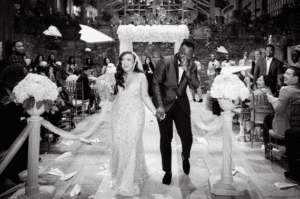 (Etsy)
FLY PAPER AIRPLANES!

Are you looking for a clever way to have fun with your wedding send-off while creating a memory that will last a lifetime? Prepare a stack of paper, have your guests make paper airplanes, and let them soar above you and your spouse as you walk away from your unforgettable wedding day into your happily ever after.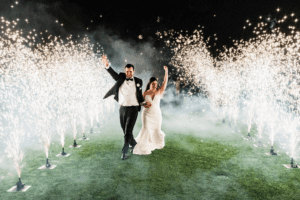 (Pinterest, Kelly Homberger)
COLD-SPARKLER MACHINES

Make your send-off SPARKLE! Another alternative to fire and flames is an epic end to your wedding day, which is a much safer option.
TINSEL STREAMERS

Your wedding is one big party, so why not make the send-off your wedding's grand finale?! Keep the party alive while your guests uniformly toss tinsel streamers.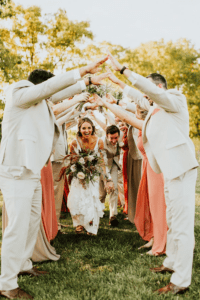 (Pinterest, Union 12, Columbia City, IN)
HUMAN TUNNEL

Grab your partner's hand, duck down, and RUN through the exhilarating human tunnel created by your dearest friends and family in this intimate and exciting send-off idea.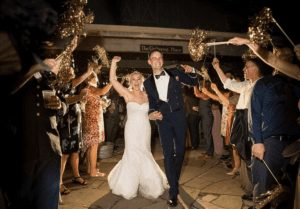 (Pinterest, JCM Photography)
CHEER 'EM ON WITH POM-POMS

Take center stage while your guests wave pom-poms back and forth to celebrate your wedding day and your marriage!! 
BOOK your dream wedding at the History and Culture Center with us today!
*Note: Glitter, confetti, birdseed, rice, or balloons are prohibited. Please confirm with venue management staff for approval on what is to be used outside for the bride and groom send-off.