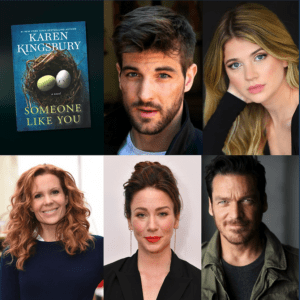 In October 2022, the new Karen Kingsbury movie
"Someone Like You"
rented The History & Culture Center for filming and as production offices while they shot the movie around Williamson County.
Someone Like You is a love story with redemptive themes of reconciliation, sacrifice, and beauty from tragedy, and is based on Kingsbury's popular New York Times bestselling book by the same name.  "Young Andi Allen's beautiful life was built on a lie," Kingsbury said. "But it was a lie that led her to him."
​This first film from Karen Kingsbury Productions is an independent, low-budget theatrical feature that shot in Tennessee and Alabama.
The script was written by Kingsbury and her screenwriting partner, Tyler Russell (Hallmark's MAGGIE'S CHRISTMAS MIRACLE, Sony's "A Thousand Tomorrows"), Kingsbury is acting as Executive Producer and is a daily part of pre-production. Russell will make his feature film directorial debut with this movie.
INTERESTING FACT:
The book Someone Like You released in 2020 at the height of the pandemic. Kingsbury used the release to ask her readers to support Landmark Booksellers in Franklin, TN, a famous independent bookstore that was Kingsbury's inspiration for her book and Hallmark film, THE BRIDGE.
"Someone like you can save this bookstore," Kingsbury wrote to her readers on social media. The idea took. Kingsbury's readers purchased more than 5,000 copies from the small, iconic store, and over a single busy week, Kingsbury and her family and team worked around the clock with the store's staff to package and ship the books out.
"There is no question that Karen's readers kept our store open during the pandemic!" said Joel Tomlin, owner of Landmark Booksellers. "Karen is our angel, and Someone Like You is our favorite of Karen's stories."